Lead Genesis has been a market leader and innovator in the residential solar space since 2011. We work with large providers, independent contractors, and everything in between. We leverage our team's combined decades of experience in marketing to generate TCPA compliant residential solar leads from a variety of sources. These sources include search, social, display, email, and offline channels. Our proprietary platform enables us to run a series of validation services and quality assurance processes to insure our leads meet conversion expectations for our clients.
Our leads are:
Available in all 50 states and Puerto Rico
Sold either exclusively or to no more than 2 installers
Run through industry leading validation services for quality control
Delivered via post, email, or text
TCPA compliant
Returnable if unqualified
There are no set up fees or penalties for cancelations.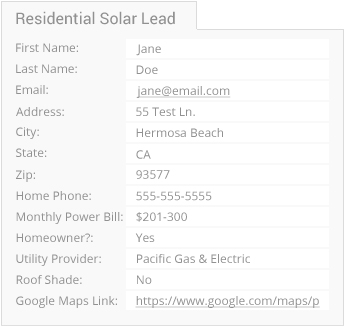 ---
The "Semi-Exclusive" Model
Lead Genesis has delivered over 3 million solar leads since 2011 and has aggregated a significant amount of performance data to better understand what works for both the consumer and the installer. The metrics show us that the best experience for the consumer and the best ROI for the installer is achieved with a semi-exclusive lead.
These leads are delivered to 2 installers only and provide the following benefits:
By limiting the number of engagements, the consumer is not "burned out" by the number of calls and options.
The consumer will have a higher confidence in the decision to purchase or lease a solar system if they get multiple quotes and feel as if they are getting a deal.
The consumer is less likely to shop around outside the options we give them. Data shows that "exclusive" leads are rarely exclusive because consumers tend to look for another quote anyway.
Sharing the cost with another installer produces better economics for everyone. The lead generator gets better pricing to source better leads, the installer gets leads at a lower price, and the consumer gets a better deal.
Data shows us consistently and clearly that this model produces the lowest cost per engagement and the lower cost per sale for our clients.
---
Pricing & Returns
Lead Genesis pricing is largely based on demand. Supply is generally limited and leads are distributed to the highest bidders first. There are no set up fees, cancelations fees, or hidden fees. Credits terms are available upon request for established partners meeting certain budget requirements.
We offer a lenient return policy to protect your investment and insure you against fraud. Returns are processed weekly and used to optimize the account.
We accept returns on the following dispositions:
Never Asked for Quote
Already has Solar
Low Power Bill
Out of coverage
Wrong Utility
Not Homeowner
Roof Shade
Bad Phone Number
Bad Address
Wrong Person
Hostile Customer