With combined decades of experience in both offline and online marketing models, our team has positioned Lead Genesis as a premium destination for high quality lead products. Our emphasis on quality control involves a strict internal verification process to filter out any non-qualified lead prospects. We control almost every aspect of the lead generation process…driving high quality traffic from our network to our own hosted offers and delivering through our technology platform.
Lead Genesis has been a market leader and innovator in the residential solar space since 2011. We work with large providers, independent contractors, and everything in between. Lead Genesis sets itself apart by engaging in large scale national media buys. We buy media through channels that are simply not options for even our largest clients because of regional limitations. It is for that reason that we are able to target consumers that our clients cannot reach through their internal marketing efforts. We stand by our service by charging no set up fees and offering the most lenient return policy in the business.
Network and internally generated
Available in all 50 states
Exclusive and non-exclusive lead programs
Internal call verification for quality control
Delivered via email and custom post
Guaranteed with a return policy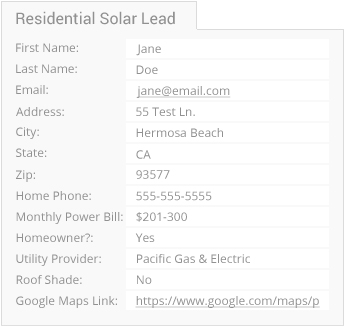 Pricing
Lead Genesis pricing is entirely based on demand and starts at $5 per lead. There are no set up fees and we offer a lenient return policy to protect your investment. We understand your cash flow needs and offer flexible credit terms to established partners. Click here to get a quote.
Lead Genesis has a limited supply of leads and pricing is based on demand. Pricing can range from $5 – $300 depending on the lead product, filters, and demand.
Give us a call today at (800) 314-5070 to get a free consultation and up-to-the-minute pricing in your area, or click here to sign up now.